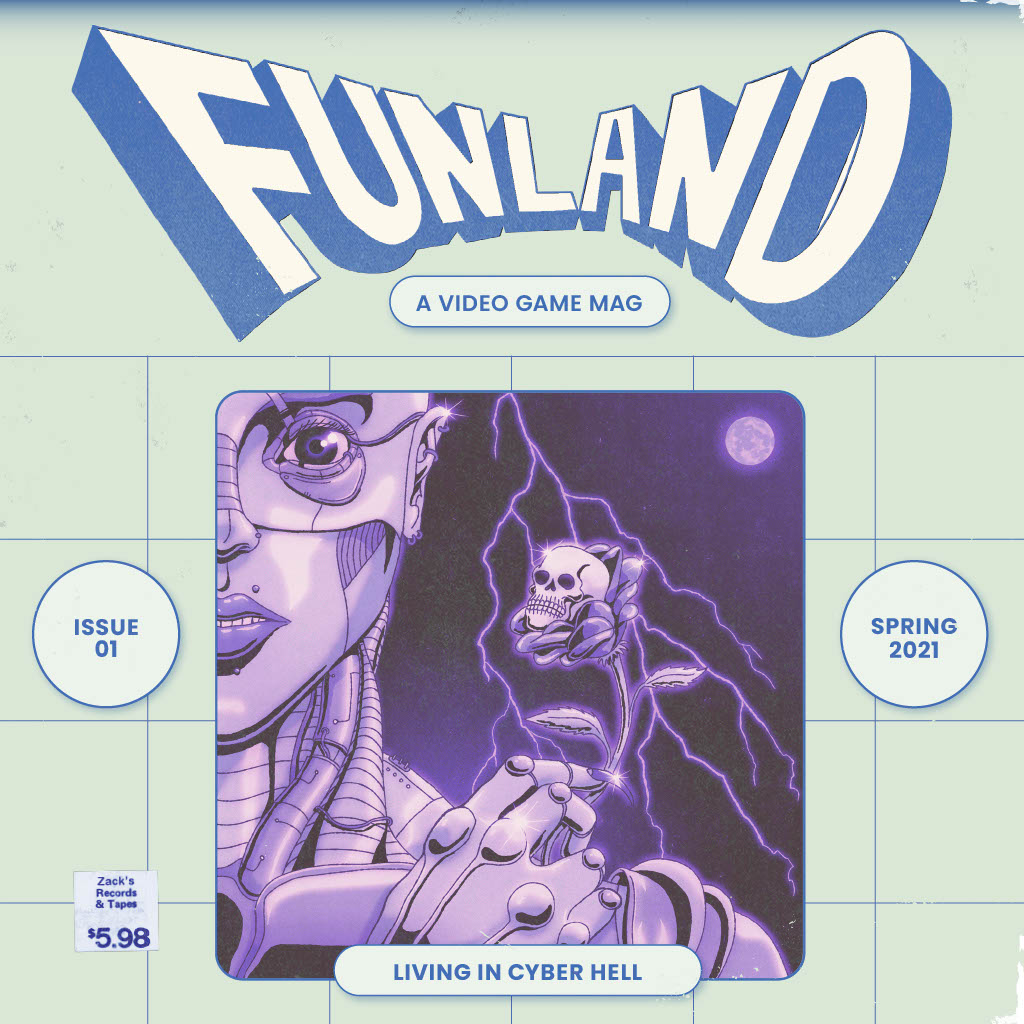 FUNLAND Magazine No. 1
A downloadable magic gaming magazine
Miss the playful design and sense of discovery from magazines like EGM, Nintendo Power and Famitsu? Want to fling your eyes into pages of previews, profiles, essays and art about the wildest new game things on the horizon? To you, I say: Welcome to FUNLAND.
This is an all-new digital games publication. Instead of merely being an exercise in nostalgia or aesthetics, it will blend elements of olde with coverage that better reflects our modern tone, scope and politics. In short: A queer GamePro.
In the debut issue Kate Killet speaks with Christine Love about her upcoming road trip RPG GET IN THE CAR, LOSER and longing for the highway in a year without travel.

Annie Mok speaks with Spelunky creator Derek Yu and breaks down the process behind his devious game design.

We catch up with Yutsi (aka Geography of Robots) to talk about their upcoming adventure game NORCO and how to craft a dystopian future when the present is overlapping.

Struggle Session's Leslie Lee III examines how, despite a world primed for a tale of technology and decay, Cyberpunk 2077 feels anachronistic in our current hell.

Plus: Ville Kallio's Cruelty Squad! Kara Stone's UnearthU! Spencer Yan's My Work Is Not Yet Done! Bachelor Soft's DDD: THE NATURAL PLAYBOYS! Cobysoft's Dome-King Cabbage! Game ads from another dimension! And much much more!

Individual issues can be purchased right here on Itch. If you'd like to save a few bucks and pick up a couple perks, consider becoming a subscriber on Patreon!

Funland is a proud part of the Superculture Network, a collective of critical gaming coverage such as Bullet Points, Heterotopias, the BAD END podcast and more.
Purchase
In order to download this magic gaming magazine you must purchase it at or above the minimum price of $8.50 USD. You will get access to the following files:
FUNLAND NUMBER 01.pdf
32 MB